UPCOMING CLASSES & AUDITIONS
The SPONGEBOB Musical: Youth Edition
Ages 10 & up
This class focuses on training in acting, voice and dance with a rehearsal period that leads to a performance of a musical. No experience is necessary; however, this class leads to a performance for the public and students are expected to be committed and work at the highest level of professionalism. Limited Space. Minimum of 20 students required. If minimum enrollment does not make a full refund will be given.
* Class hours will be extended as needed and once the rehearsal process gets underway. Students must be available for the mandatory dress/tech rehearsals during the week prior to the performance on May 7. Tech rehearsals are at the Sunrise Civic Center Theatre and typically run from 4:30 – 9:00 p.m.
Students choose one location and day/time and must register with that location:
Mondays: – beginning January 30 – 5:00 – 8:00 p.m. at the Sunrise Civic Center Theatre, 10610 W. Oakland Park.
To register for the Monday class please contact Jennifer Ginn at 954-747-4646 or JGinn@sunrisefl.gov *Students MUST REGISTER by January 27.
Wednesdays: beginning Februrary 1 – 4:15 – 7:15 p.m. at the DPJCC, 5850 S. Pine Island Rd., Davie No class on 4/5 & 4/12. Students must register by January 27.
To register for the Wednesday class class please contact Lisa Lundy at 954-434-0499 ext. 202 or llundy@dpjcc.org
TUITION: $425
Auditions: Advanced Performance Ensemble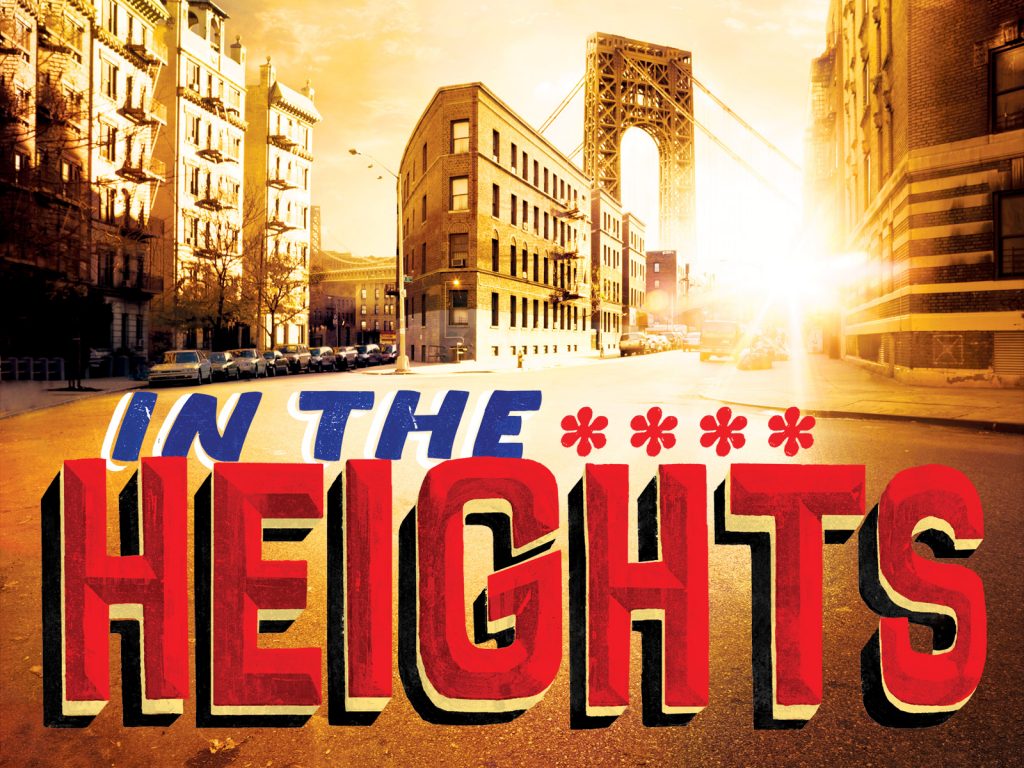 Sunrise Civic Center Theatre, 10610 W. Oakland Park Blvd.
This performance class is by audition only and for ages 15 & up. Auditions will be held on Sunday, December 18 from 9:00 a.m.-12:30 p.m. in the dance studio at the Sunrise Civic Center Theatre.
Please send in a vocal video, no more than one-minute long, either from the musical or a song in the style of the musical. Please send it either by email to robinbbraun@gmail.com or by text to 954-249-1380, preferably no later than December 15.
To register for auditions please fill out fill out the form by using the link below: https://insideouttheatre.wufoo.com/forms/zms7ofe0t15xsv/
The auditions will begin with dance at 9:00 a.m. so please come dressed to move. The dance auditions will be followed by cold readings from the script. Audition sides will be sent by email a couple of days prior to the auditions.
Rehearsals begin on Sunday, January 8 and performances will be held on April 29 & 30. Additional rehearsal hours will be added as needed and students must attend the mandatory tech rehearsals the week prior to the performances. Once cast in the musical, students must register with the Sunrise Civic Center Theatre.
Tuition: $425
THE PLAY THAT GOES WRONG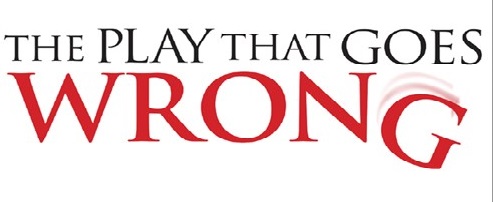 AGES 17 – Adult
This show has been cast.
Performances will be February 25 & 26, 2023. For more info: please email: robinbbraun@gmail.com or call 954-249-1380.
NEW CLASS at CITY OF PEMBROKE PINES CULTURAL CENTER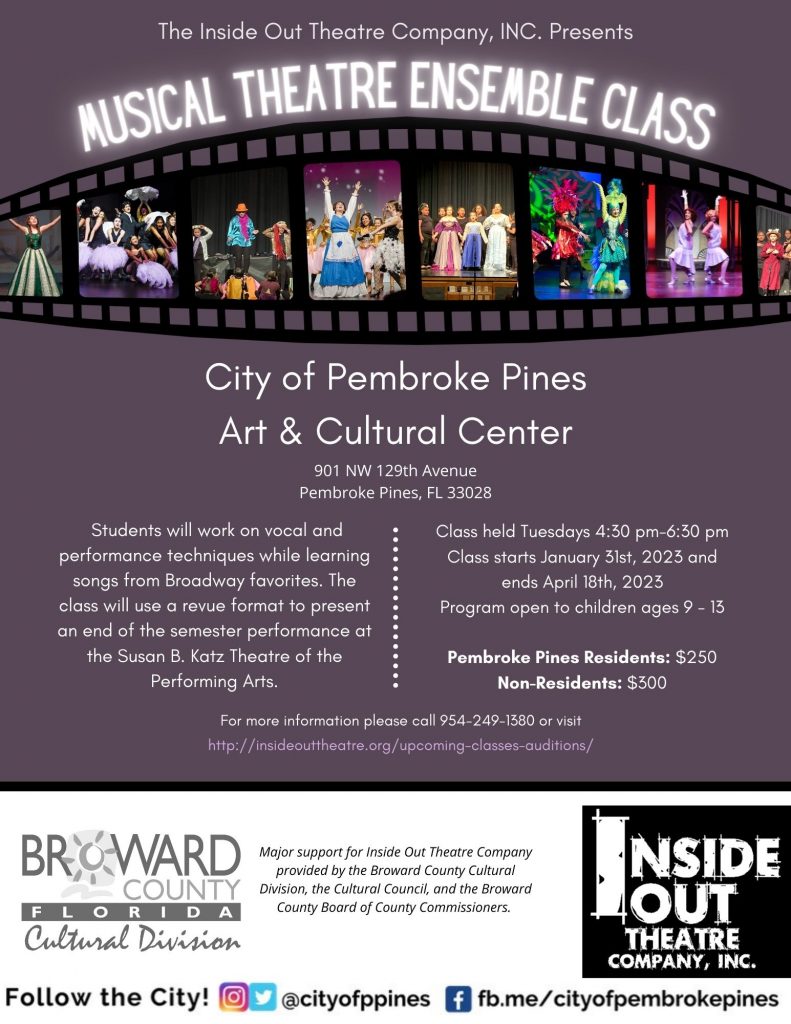 The Musical Theatre Ensemble Class meets every Tuesday 4:30 p.m.- 6:30 p.m. beginning January 31 and ends in a musical theatre revue performance on April 18 at the Susan B. Katz Theatre. A mandatory dress/tech rehearsal will take place on Monday, April 17. Taught by Marisol Dow.
REGISTERING NOW! Please note: your space in the class is not confirmed until payment is made.
TO MAKE REGISTER & MAKE PAYMENT, PLEASE USE THE LINKS BELOW. If you have any questions, please call IOTC at 954-249-1380.
REGISTRATION LINK: https://insideouttheatre.wufoo.com/forms/z1svpadc1b0gzdb/
PAYMENT LINK BELOW: